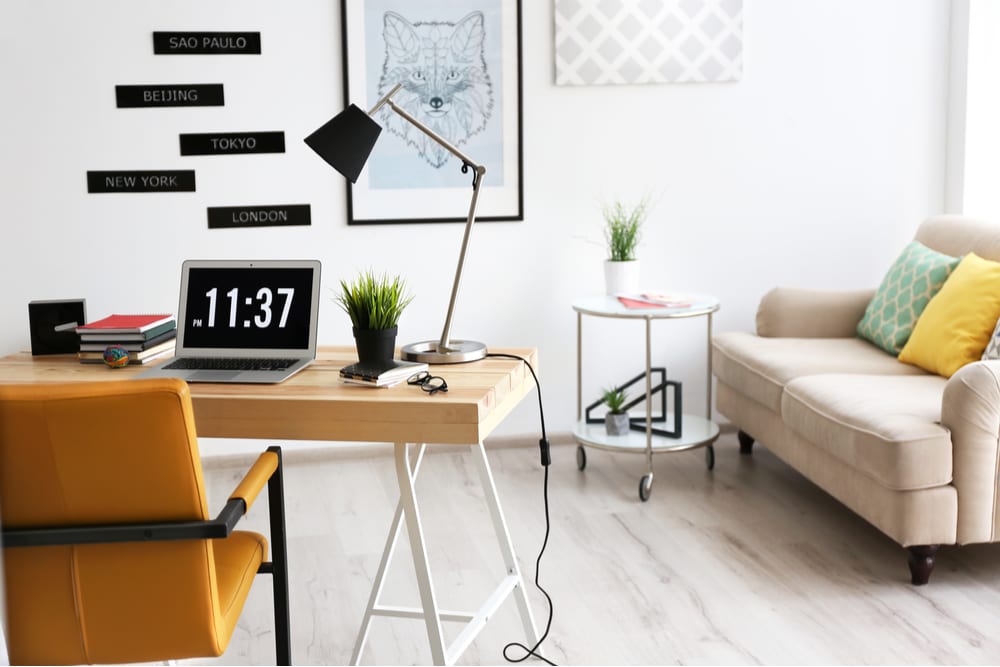 Many people are unaware of the impacts of colour in their lives and how it affects their feelings and behaviour on a day to day basis.
Studies have shown that colours, especially certain hues can affect a person's mood, especially when an individual is constantly exposed to such hues from inside the home. Some shades can inspire a person to feel energized and happy, while others could not understand why they constantly feel down or depressed when they get home from a long day at work.
It could be because of the colours that are used for the home's interior that's affecting it.
This is why it is important to find out what colours work best for your working environment to make you feel more inspired and productive.
Having the right colour profiles could help enhance your mood, be more productive, and creative especially when working from home.
Improving your home office environment
If you need to work from home, consider using neutral colours such a beige or white for your walls, furniture, and fixtures, as well as highlight it with bright green colours such as small potted plants.
Incorporating real live plants can greatly help in freshening up your home office as it emits oxygen to brighten up the mood and provide you with some fresh air.
Framed landscapes of green meadows or scenery can also be hanged in walls to add brightness to your home office.
Comfort in the living room
Of course, most of your time is spent in the living room to relax and rejuvenate after a tiring day from work. This is where you can bond with family, chat with friends, or spend a relaxing time alone to reflect or enjoy a moment of silence.
You can make the most of green tones, especially subdued ones to enhance rejuvenation and offer you a sense of calm and serenity of nature.
These colours are available in your nearest hardware store where you can also get some small pots and swatches to help you mix and match your tones for the room.
The ultimate master bedroom
There's no doubt the bedroom is your ultimate comfort zone. With the right colour palette for your bedroom, it can enhance your resting mood and guarantee you with good and quality sleep. 
Mood-enhancing colours that are ideal for the bedroom are soft blues, grey-toned neutrals, muted pinks, calming greens, lavender, and soft yellow which have been found to evoke a sense of calmness and peace.
Appetising kitchen colours
The kitchen is the stomach and heart of the home, which is a place associated with sharing and happiness. 
Using different tones of yellow in the kitchen to evoke such feelings is a good choice as it encourages optimism and a sense of hope to create the right sense of balance.
There's no need to paint the entire walls with yellow, rather incorporate bright pops of yellow in your fixtures, décor, and appliances, as well as your countertop blooms to provide that extra accent.
A study conducive for learning
If you want to make your study more conducive for developing skills and knowledge, why not take advantage of stimulating colour combinations or tones that are appropriate for stimulating brainpower.
Bright tones of yellows and oranges help promote feelings of upliftment and happiness, which results in a clearer and more analytical thinking to enhance learning and decision-making capabilities.
Strength and power for the home gym
Energetic colours used for the home gym is applicable to enhance physical and mental performance as you stay in shape. 
Colours such as orange and red are associated with physical stimulation and can help raise your blood pressure to give you the extra boost of physical strength and endurance during your workouts.
However, remember that a gym is a place where you workout so stay away from it when you plan to relax.
Fun and adventure in kids' bedrooms
There are a lot of fun options to mix and match colours for the children's bedroom, but there are a few shades you could consider to optimise your choices that could affect their mood.
If you want kids to stay calm, you can use shades of pink which is often used in schools and hospitals, which is found to evoke peace and calm. 
Lighter shades of orange can also be used to help motivate them, yellow to spark imagination, and blue for a calming effect.