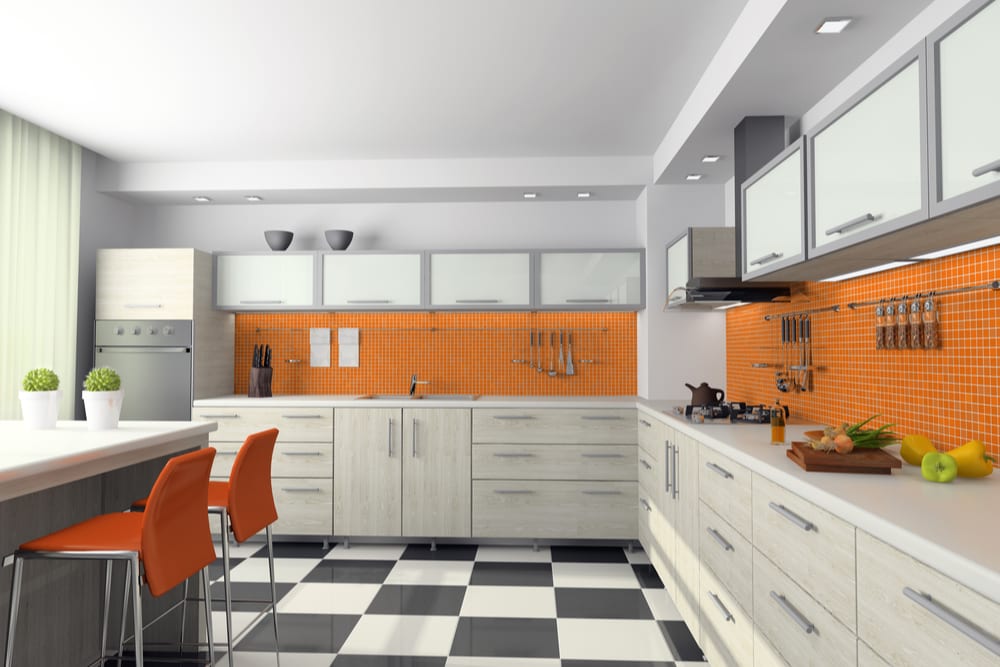 Kitchens have withstood the test of time and remain to be one of the most important features of your home.
It is also the most used and abused part of the home, which is why home buyers often consider kitchens as a major determining factor when looking to buy a house.
However, before deciding to take the plunge on any property, consider weighing your options by going over some new kitchen trends that are making waves this year. With this, you may be able to think forward and expect to see the value of your property go up for incorporating these new trends and designs.
Smart kitchens
Consider investing in high-quality smart kitchen appliances that can boost the value of your property. Reliable, energy-saving, and highly functional home appliances help save hours, energy, and effort in cooking. 
These include self-cleaning ovens, smart refrigerators, air fryers, and coffee machines, makes it convenient and easy to manage the once-mundane and tiring kitchen tasks. Moreover, these appliances have chic and sophisticated designs that provide excellent design accents for the kitchen.
Vibrant appliances and colour choices
Always remember to make sure you choose your colours wisely and appropriately. Use tones and shades that complement one another and make sure the wall and floor colours do not clash.
Kitchens will never go out of fashion and making sure that your designs, colours, and accents can transcend through time. Trending colours include coral, cobalt, magenta, and orange.
Recent statistics have shown that around 43% of renovators promote white kitchen cabinets, which has been a popular choice among homeowners and builders alike, so considering these trends give you the edge in increasing the value of your property.
The trendy benchtop
There are thousands of benchtop designs and models available in the market at the moment due to the number of home improvement activities increasing in the past several years. 
Among those that are popular in the market include quartz, granite, marble, laminate, and manufactured stone.
However, making the right choice on your benchtop upgrade should not be limited to stand-alone design and appeal, rather consider one that would match the theme and create balance in the kitchen. You would not want your benchtop to stand out like a sore thumb, rather one that would complement the entire kitchen.
Timeless splashback design
While incorporating a timeless splashback to your existing kitchen theme may be a tempting option, make sure to go for something more trendy and appealing. You may be able to take advantage of bold touches such as black splashbacks, arabesque, or metallic tiles.
Splashbacks that are made of marble or provide a marble effect may also help make your kitchen look more luxurious. 
Remember that splashbacks may take a good beating, so finding good quality ones that are easy to clean and maintain are ideal, since it may last longer and stand the test of time.
Go natural and green
Accenting the kitchen with natural elements such as granite, marble, stone, or wood can create more appeal for your kitchen. If you are working on a tight budget, you can opt to go for laminates that are designed with earth materials or elements. 
A more modern appeal and catching on a trend are ultra-modern gloss and engineered materials that incorporate natural elements that are catching on and have been a popular preference by many home buyers.
Golden fixtures and sinks
Gold-finished sinks and fixtures have been getting a lot of attention in recent years and are proving to be good alternative accents to the modern kitchen.
Paired with a marble or stone countertop, the significance of gold metallic fixtures invokes a sense of rich and opulent kitchen vibe.
Double island
As more and more families get to spend more time in the kitchen, installing a double island can be a valuable addition, especially when you are entertaining guests. Cooking, while socialising at the same time allows you to be more versatile in the kitchen and at the same time engage your guests in conversation or simply enjoy watching you cook.
Also, a second island can function as an extra table for quick snacks or meals when sitting down is proving to be a bore or when interacting with guests.