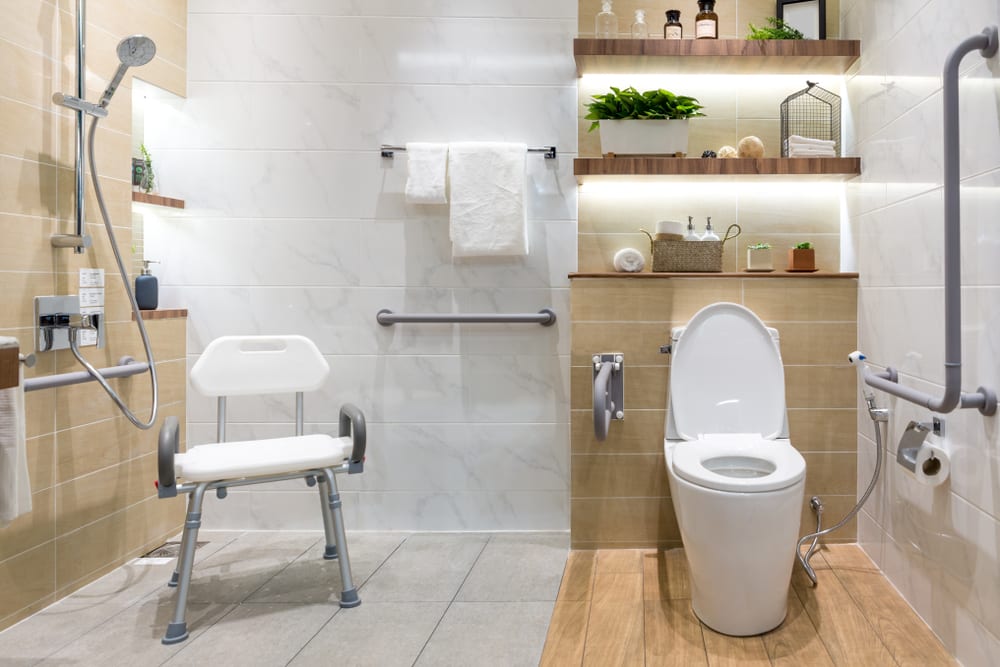 In recent years, Australia's ageing population has been getting a lot of public and government attention, especially in providing adequate and appropriate care to improve the quality of lives of elderly citizens.
Aged-care residence, also known as ageing-in-place, has seen a lot of improvements and has become popular since it has lived-up to quality standards, especially in providing an environment where it has become safe and convenient for senior citizens in aged-care homes.
In fact, there have been 71,400 senior Australians who have availed of home care in 2017, which represented an increase of 84% in the past 10 years.  
What's the difference?
Whether it's you or your beloved elders, the need to ensure a safe and manageable living or hospice environment is critical to avoid accidents or injury. 
Accidents can happen at any time and when you least expect it, no matter where you are and even inside your own home. You may have undertaken some child-safe measures previously, however, what may be safe for your youngsters could be potentially risky or even dangerous to the elderly, particularly since everyday activities become more challenging.
Whether it's a remote facility or your very own home, making sure living spaces for senior citizens must be safe and well-maintained.
But there's good news, it's not very difficult to make your home safe for the elderly as you might think. In fact, all it takes is some basic safety knowledge and taking precautionary measures to make your place safe for the elderly.
Points of entry
This is the most important part of the house that needs to be modified. Ideally, passageways such as doorways and entrances need to be wide enough to allow wheelchairs to go through and ramps instead of steps with non-slip surfaces to prevent rubber wheels from slipping or sliding. If doors are needed, make sure these can be opened from both sides.
If wheelchair access is not necessary, make sure there are railings on the walls or passageways for support.
As much as possible, avoid uneven surfaces on any approach leading to entrances, as people grow old, the ability to maintain balance also decreases so it's better to make sure the floors maintain an even surface, especially along entrances.
Living area
The living room is one of the most adored comfort zones in a house but you may not be aware that there are certain areas that can be potentially harmful to the elderly.  
Loose floor rugs that can be a tripping hazard, a coffee or book table with jagged edges, low couches that make it difficult to get up from a seated position and dim lighting that make it hard for people with vision issues.
Changes to structures may not be necessary, but would mostly require some changes in furniture and fixtures that could support those with weak muscles and deteriorating vision. Also, make sure to avoid slippery floors by installing non-slip rubber mats.
Increase the height of couches to match the level of comfortable seating and ease of movement in sitting down or getting up.
Make sure tables and chairs have rounded edges to minimise injury in case of an accidental fall or trip.   
Bathroom and toilet
The bathroom could be one of the trickiest areas of the house where it could be prone to accidents since shiny tiles and wet floor increase the risk of slipping, or getting in and out of the shower can also be dangerous.
Make sure to install rail support in risk areas such as the shower, beside the loo, and on the bathroom walls.
 Shower heads need to be within arm's length and easily adjustable when used by an elderly person, especially if they prefer to wash in private.
Whenever possible, refrain from letting elderly people use a bathtub unassisted to avoid accidents.    
Bedroom
It is important to also remember that the bedroom has a couple of other requirements to consider.
The bed height must be at a convenient level where it is easy for an elderly person to lie down or get up from. The bed must be situated in an area not too far from the door where a bedside lamp table with a handrail installed can be ideal.
Kitchen
The kitchen is also a key area that needs safety attention, since it is potentially has a lot of hazards for the elderly such as liquid spills, hanging pans, gas lines, etc. Here are some of the most common precautions that must be considered;
When possible, install automatic shut-off timers for all kitchen appliances, including stoves or ovens. This is a good way to ensure that these appliances have shut-off mechanisms to prevent accidents.

Always make sure the tiled floors are always kept clean and dry. Non-slip mats can also be installed around the kitchen floor.

Ensure that cupboard doors are easily opened with less effort or strength required. Doors or drawers that require a certain amount of effort could harm seniors in the kitchen.

Make food items accessible and within reach in the kitchen pantry or cupboard.

Make sure that crockery and cutlery are properly stored and must be kept in separate compartments yet manageable areas to avoid getting cut or injured by falling pots or pans.
Make sure that you carefully assess your home by checking on these practical safety tips when having an elderly person in your care. You are not just ensuring that they can manage their way around the house, but would also improve their quality of lives.