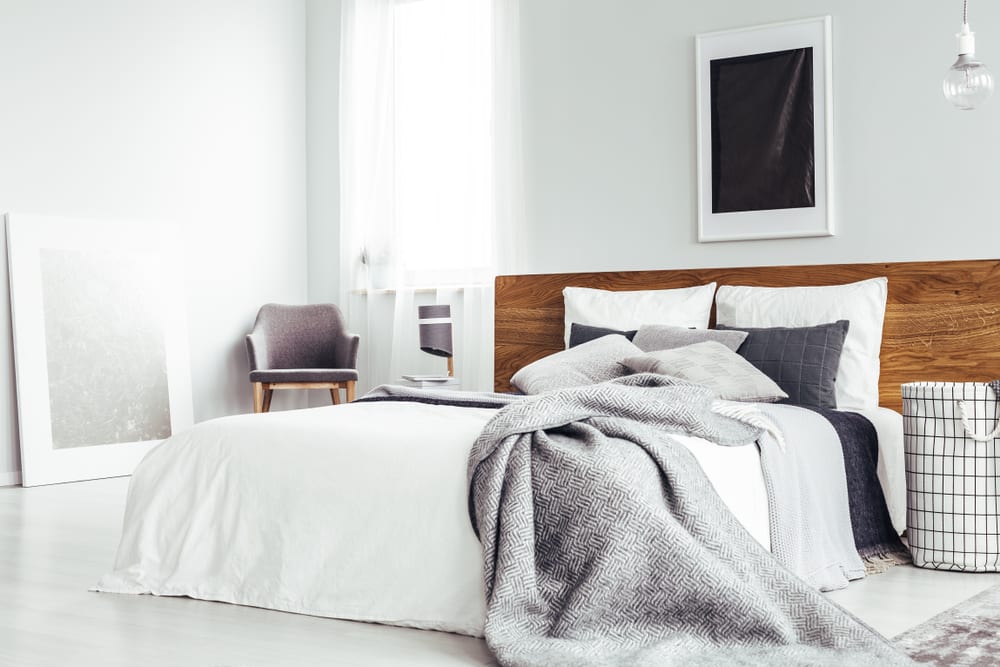 Whether it's a brand-new property or simply one you're moving into, you're going to have a lot of shopping to do. Whilst it might be tempting to splash out on items left, right and centre, having a carefully-created shopping plan will help you to stay on target and reign-in that budget. Read on to find out more:
The Bedroom
Things to Consider
Natural bedsheets and bedding are a great staple choice. Two complete bed sets in natural colours can be matched with absolutely anything, so decorating the rest of your room will be a breeze.
Buying linen sheets won't be cheap, but if cared for property they can last for over 20 years, improving with each year that goes by. Complement your new bedding with a light-grey woollen throw will give your room a luxurious, high-end feel, without breaking the bank.
When buying mattresses, mattress toppers and pillows, the phrase "you get what you pay for" couldn't be truer. If you're buying a new home and don't have a mattress yet, this is an area to plan for a higher spend. You'll be spending roughly 8 hours here a day, so it's well worth the investment.
Things to Avoid
Don't throw your cash at throw pillows. Whilst they might be a nice novelty, the fun will quickly wear off when you're throwing them on and off the bed each day. Accented pillows also come in and out of fashion, so your money is best spent on a high-quality mattress.
The Bathroom
Things to Consider
Buy two sets of towels and bathrobes, plus a spare if those get caught up in the wash cycle. Having too many towels is only going to create a backlog of laundry.
Things to Avoid
White towels might look fancy, but that's only when they're new. If you're not prepared to bleach these towels, you're best sticking to darker colours, as they'll turn grey and unappealing quickly once they get put to use.
The Kitchen
Things to Consider
Invest in items that'll help you make great food. Once again, quality is usually equal to price with cookware, so invest in a set of stainless steel, anti-stick and cast-iron pans. These will cover all the bases, from making a rich red sauce to searing succulent steaks.
On top of this, a large, wooden chopping board is an essential. You won't know you need it until you have one, but the extra chopping room and grip against your work surface is something you won't know you've always needed until you have it.
Things to Avoid
Don't overdo it on gimmicky items. A rubber garlic-peeler might seem like a good idea, but you'll probably end up doing it with a knife anyway. It might seem like a small-value purchase, but the dollars add up.
The Dining Room
Things to Consider
Keep it clean, fresh and basic in your dining room. Classic stainless-steel cutlery is always a winner, as well as white dishes and clear-glass.
These are things you'll have for years, so don't jump at the first set you see. Shop around to find one you really love. On top of this, look for linen placeholders and a tablecloth for when you're hosting friends.
Things to Avoid
Expensive, fine bone china that's so delicate you're scared of taking it out of its protective casing. It's like buying a Ferrari if you don't have the money to repair a dent in the door. It's best not to do. Think about it frankly – how often are you going to use it? If you've got the monthly income to not worry about them getting broken by dinner guests who've had a few too many glasses of wine, we say go for it. Otherwise, this purchase is best avoided.