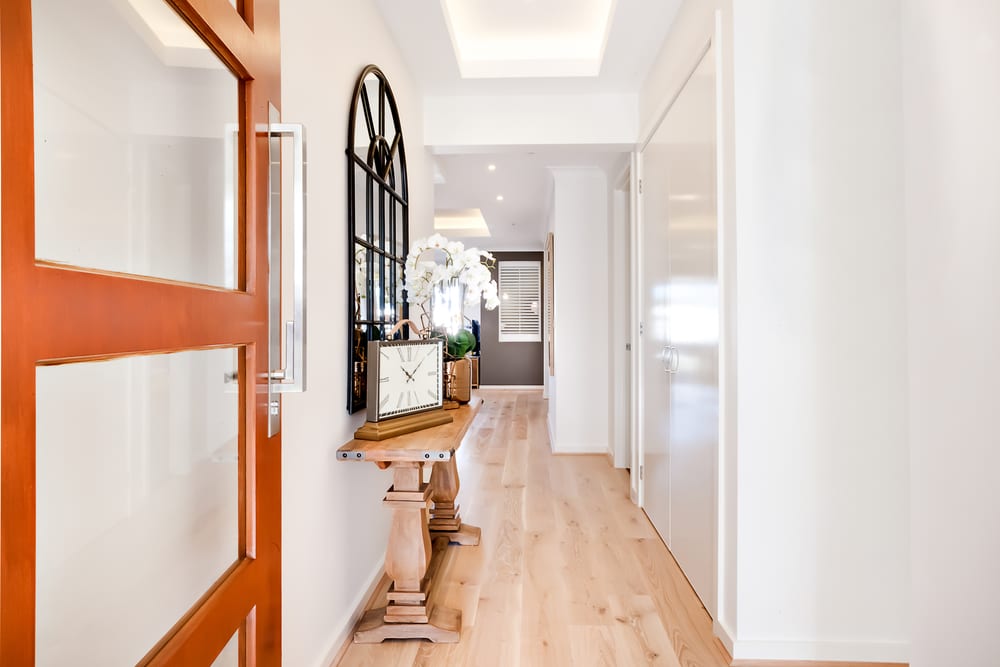 In many walks of life, first impression are paramount. A firm handshake will always be welcomed over a limp, lettuce-like flop. So why allow your most prized asset – your home, to be a limp lettuce? When you sell your house, you'll want it to be a firm and welcoming handshake.
First impressions of a home will normally be made by a buyer within moments of stepping inside the front door. For this reason alone, the entrance to your home needs to be immaculate – giving off a great vibe from the word 'go'.
1)   Neat And Tidy
The first thing on your agenda should be ensuring that the entrance area is clean. This will create the impression that the property is well cared for.
Make sure that the roofing, guttering, windows, balustrades, footpaths, walls, driveways and gardens are all clean and not in need of repairs. Clear away cobwebs (not just metaphorically), as well as speckles of dirt and grime.
If you happen to have a front yard with a gate, this will be the first thing that people will be coming into contact with make sure it's clean and in good condition – i.e. no rust or needless squeaks.
2)   Perk-Up The Doorway
If you've got enough space, perhaps think about placing a range of matching pots and plants against the wall of your entrance. For most average-sized doorways, you can use pots that are up to 1 metre high.
With older style homes, aged classic cone-shaped pots with a rolled rim are classy – especially when coupled with colourful plants such as geraniums. These also add to the traditional feel of the property. More modern homes can accommodate tall, angular pots containing succulents for dramatic effect.
3)   Use Pots
Using pots is a great way to spruce up the entrance as previously mentioned. Try to keep things symmetrical though, as this will add to the even feel of the house. This will create the illusion of space, yet not too much as to detract from the warmth of the room.
4)   Play With The Lighting
Most of the time, hallways at the front of the house tend to be narrow and dark. If your house has this problem, you need to consider how you can use the available lighting to rectify the issue.
One easy and cheap way you can avoid the curse of the dark hallway, is to paint the walls a light colour. You can also add a skylight, which will let natural sunlight in by day, and starlight in at night time. A broad runner will help to make a narrow hallway seem wider.
5)   Show The Front Some Love
With the front door being the first thing a buyer will see, you'll want to make sure it's nicely spruced up. Give it a lick of paint, so get out those brushes guys. You may also want to consider a new handle, knocker and lock. These are inexpensive ways to updating the front of your house nice and easily.
6)   Pave Up To The Front Door
A pathway will guide your buyers to the door. Sounds silly, but it gives you an opportunity to draw buyers into areas you want them to see first. Plain white paving stones look awful against a green lawn – they'll look dirty after a few uses.
If your pathway is looking a little shabby after years of wear and tear, you can tile the step rises rather than ripping up the whole thing to start again. It'll save you a tonne of money too.
7)   Maintain Privacy
In many areas such as the inner city, security and privacy are important to buyers. They can even be a major selling point, so consider if you need to build a low to medium wall out the front. If you already have one, why not give it a lick of paint?
Before building a wall however, check with your local authority to ensure that regulations are met.