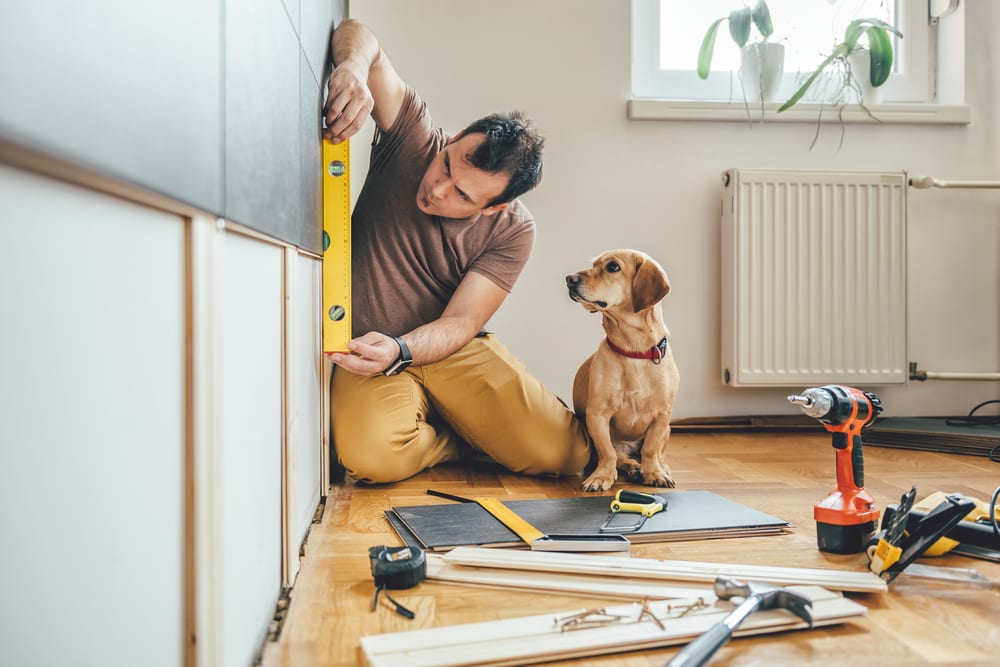 It's a tricky decision, and when buying your first home, it might just be a foot on the ladder, but it still needs to cater to your wants and needs in the medium-long-term. 
Your first home needs to be practically and psychologically viable for you. Whether you need to renovate or build from scratch to achieve that is up to you, but you might be lucky enough to find an existing property you can mould yourself into.
To help you make the right choice for you, we've outlined the pros and cons of each of your main options. Read on to find out more:
Renovations
Pros
Affordability
If you buy a property that needs to have work done to it, it's going to be less attractive in the eyes of the market. This will trickle down into less demand, which means a lower sales value. In all likelihood, you'll be able to pick up a bigger home than you would get from a move-in ready or new-build property.
You'll Boost Property Value
If you renovate a property, you're going to massively increase its market value. Although this might not be your priority, it's something you should consider for the future.
Freedom of Design
When you renovate your property, you get complete control over what it looks like and the features it has. You can build your renovations plan around your budget and even do them one step at a time to boost your cash flow.
Cons
The major negative side of renovating a property is all the legwork you're going to have to do. You might be ready for it now, but when you're 2 months in you might start to get tired.
You Won't Settle as Fast
If everything is up in the air around you, it could well take you longer to settle into your new home. Additionally, if you're planning a complete redo, it could be a long while before you can move into your home.
You Could Run into Hidden Costs
From time to time, your starting budget for a renovation won't be what you end up paying. Ultimately, you're going to underestimate the costs and time of some of the elements you're renovating, which could drag the project on, or even leave you in financial trouble.
Move-in Ready
Pros
They're Really Convenient
A move-in ready home is the height of convenience in the property market. Simply tell your agent what type of property you're after and where you're looking, and you're done.
Modern Technology
Most move-in ready homes will be packed with new technology, making them run more efficiently. They'll be insulated better and have new appliances, making your life virtually fuss-free.
Cons
They can get Expensive
It's the elephant in the room – move-in ready properties are great and the market knows it. This means you could end up spending considerably more on one than you would on a home that needs a bit of TLC.
It's not Entirely Move-in Ready
Understandably, when we say move-in ready, it's not going to be perfect. The property isn't going to be customised to your exact recommendations, so you might still have to compromise on some of the stylistic choices the developers or previous owners made on the property.
Building
Pros
Notable Discounts
If you build your home as a first-time buyer, you're going to benefit from significant discounts on stamp duty – in some states, you might even be completely exempt. You could also receive a concession on your construction costs.
It'll be 100% Yours
Unlike move-in ready and renovation properties, your new-build home will be constructed by you from the ground up. This means that every flair, design choice and eccentricity you've dreamed about can be put in.
You can Reduce Your Environmental Footprint
On average, the Australian home pumps out 5-10.5 tonnes of energy a year. When you build a home yourself, you can focus on efficiency and hit 2 birds with 1 stone – you'll both reduce your environmental footprint and cut down on your monthly heating and cooling bills.
Cons
Time isn't Your Friend
Building your own home can take a lot of time, especially if weather gets in the way. In fact, market research has shown that building your own home from the ground up can take as long as 8 months. The more features you want built in, the longer that timeframe will be.
Lending Restrictions
If you need a mortgage and want to take your time with construction, you'll likely run into trouble. Most lenders will restrict the construction timeframe, so if you run into complications, you'll need to get an extension. This can increase your timeframe even further.